Developed in the post-war period as a universal motorized device for agricultural applications, the Unimog is today a vehicle that is considered the best all-wheel-drive truck in 160 countries and the epitome of reliability and a wide range of possible uses. Peter Schneider, who is no stranger to the Unimog, presents a top-class typology that records all types, shapes and variants of the all-rounder since 1946 down to the last detail in over 300 data tables. The result was a detailed presentation of the Unimog's history, extensively revised and expanded, with a wealth of new images. An absolute steadyseller in the program!
440 pages, 265 x 230 mm, German language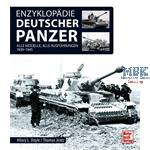 Write now your personal experience with this article and help others with their purchase decision.