British Cruiser Tank A34 Comet
Item Number:
35380
Manufacturer
TAMIYA
Scale:
1:35

49.

95

€
Appears soon
We expect to arrive at middle / end of October 2022
Expected to be released middle / end of October 2022
The (A34) Comet was a British cruiser tank first used towards the end of World War II during Operation Varsity in March 1945.
It is considered the best British tank of World War II.
Developed from the Cromwell, it carried the new 17 pdr High Velocity (HV) gun in a lower profile, partially cast turret.
This gun was effective against all German tanks in use at the time.
Around 900 examples were built, including those produced after World War II.
plastic model kit
the distinctive shape of the Comet with its long gun has been faithfully recreated (with the support of a tank museum in France)
clear plastic parts for the headlights
detailed surfaces including welds
realistic surface structure
Decals for 2 versions (11th Armoured Division)
incl. 2 half figures (in winter clothes)
link-and-length tracks
Optionally with or without "Normandy Cowling"
Tarpaulin cover of the gun mantlet is present
Length: 219mm Width: 88mm
1:35 scale
unbuilt/ unpainted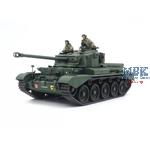 Schreiben Sie jetzt Ihre persönliche Erfahrung mit diesem Artikel und helfen Sie anderen bei deren Kaufentscheidung