Plastic kit in 1:35 scale

- not built or painted

Belonging to the 3rd generation of the Bundeswehr, the \ "Wolf \" is highly suitable for all-terrain and can be used flexibly in all parts of the troop. It is characterized in the area by its on and off four-wheel drive, off-road gear ratio and differential lock, so that it is a reliable means of transportation even in foreign missions. The standard version of the air-portable "Wolf" was first procured in 1988 by the German Armed Forces to replace the "Iltis". In the meantime models have been procured, which differ by set-up kits, wheelbases, engines and superstructures. For other forces, the \ "wolf \" is in use, such as. with only minor differences as Puch G in the Austrian Armed Forces. In total, almost 200,000 copies were produced.

Model details:
- Detailed surface structures
- Optionally available with or without hood
- Detailed interior
- Steerable front axle and moving wheels
- Additional parts for an Austrian version
- Decals for 4 versions (Bundeswehr, Austria, Netherlands)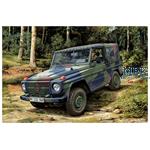 Write now your personal experience with this article and help others with their purchase decision.