The "Admiral Graf Spee" was a Deutschland-class "armored ship", nicknamed the "pocket battleship" by the British, and served in the German Navy during World War II.

It was sunk on December 17, 1939 by its own crew in the Río de la Plata off Montevideo after it was damaged by British ships in a naval battle off Uruguay.

plastic model kit

Scale 1:350

unbuilt / unpainted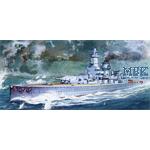 Write now your personal experience with this article and help others with their purchase decision.