Westland Sea King HAS.1 / HAS.5 / HU.5
Item Number:
AIRA11006
Manufacturer
AIRFIX
Scale:
1:48

When it entered service in 1961, the Sea King was the most advanced helicopter of its type in the world and provided the US Navy with one of the most flexible platforms at the time.
In the UK, an existing licence agreement between Westland Helicopters and Sikorsky to build their helicopters in the UK was extended to include the SH-3 Sea King not long after the prototype's first flight. For even at this early stage, the incredible potential of this new helicopter was clear and the UK wanted its own Sea Kings.
Externally, the Sea King helicopters produced by Westland shared the same classic lines of the US helicopter, but inside they were very different machines with numerous modifications designed to meet British requirements.
The Westland Sea King was selected by the Royal Navy to meet their need for an anti-submarine warfare helicopter, replacing the venerable Westland Wessex in this role.
In the summer of 1966, 60 aircraft were ordered.
The first Westland-built Sea King HAS.1 left the Yeovil factory on 7 May 1969, and the first Royal Navy machines were delivered to No 700 Naval Air Squadron (OEU) at RNAS Yeovilton later that year.
As the Sea King established itself in Royal Navy service, it quickly proved to be operational and highly adaptable, and was destined for a long and illustrious career not only with the Royal Air Force.
Plastic model kit - 100% new moulds!
four decal variants included
348 parts
excellently depicted riveting and overlapping panels
interior included
three different cockpits, depending on location / time of use
scale 1:48
unbuilt / unpainted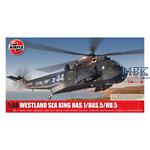 Write now your personal experience with this article and help others with their purchase decision.