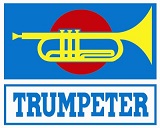 Plastic model kit for building a
BTR-70
late version
1:35 scale
Dimensions LxW (built): 218.8 x 80.7 mm
470+ parts
with driver and combat room equipment
Upper and lower hull manufactured using the Slide Mold process
Photo-etched parts included
rubber tires
unbuilt/unpainted
Paint and glue not included
More BTR-70 variants and modifications of Trumpeter can be found here (when available):
The BTR-70 is an eight-wheeled armored personnel carrier, originally developed during the late 1960s under the industrial designator GAZ-4905. On August 21, 1972, it was accepted into service and would later be exported to the Warsaw Pact and other allies. Introduced as a successor to the earlier BTR-60, it most closely resembles a BTR-60PB. Other improvements include heavier armor plating and tires less prone to puncture. In other respects, the vehicle is very similar to the BTR-60PB, with a more powerful petrol engine configuration and armament of a primary heavy machine gun and secondary PKT machine gun on a roof mounted turret.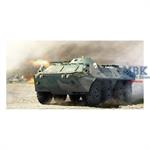 Write now your personal experience with this article and help others with their purchase decision.