Ukraine KrAZ-6446 w/ MAZ/ChMZAP-5247G semitrailer
Item Number:
HB85513
Manufacturer
HOBBY BOSS
Scale:
1:35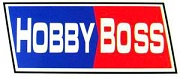 Plastic kit to build a Ukrainian
KrAZ-6446 Tractor with MAZ/ChMZAP-5247G semitrailer
1:35 scale
Dimensions LxW (built): 606.1 x 92 mm
660+ parts
Photo-etched clear parts and rubber tires included
unbuilt/unpainted
Paint and glue not included
The KrAZ-6446 tractor truck was developed in Ukraine by AvtoKraz. It was developed from the KrAZ-6322 6x6 heavy utility truck. It is a successor to the previous KrAZ-260V. Vehicle is designed to operate on all kinds of roads.
The KraZ-6446 is intended to haul semi-trailers. It can operate on all kinds of roads and in off-road condition. Fifth-wheel permissible vertical load is 11.4 t. Vehicle can tow a semi-trailer with a maximum weight of 23 t on all kinds of roads and up to 34 t on hard surface roads.
This Ukrainian tractor truck is used to transport armored vehicles or heavy construction equipment. It is also used to haul semi-trailers with the S-300PMU-1 air defense missiles.
Design of this military truck is simple and robust. The KrAZ-6446 is powered by Russian YaMZ-238D turbocharged diesel engine, developing 330 hp. Vehicle is also proposed with improved YaMZ-238DE2 diesel engine, which meets EURO II emission requirements. This tractor truck shares a number of automotive components with the KrAZ-6322 heavy utility truck.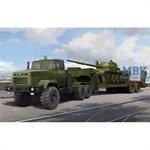 Write now your personal experience with this article and help others with their purchase decision.