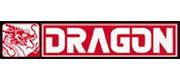 79.

95

€
Unfortunately sold out at the moment
No new delivery date known, if necessary please activate stock alert
Plastic Model Kit for building the super heavy T28
- Scale 1:35
- not built/painted

T28 Super Heavy Tank

This must surely be one of the most astonishing kits from Dragon this year! The excitement begins well before modelers open their box lids to reveal Dragon's first ever T28 Super Heavy Tank! And when they do view the contents, their jaws are sure to drop! The T28 was designated a Super Heavy Tank, and this 95-ton monstrosity was designed to breach the defenses of the Siegfried Line during the latter part of WWII. The T28 featured a 105mm T5E1 gun fitted in a fixed casemate instead of a traditional turret. The frontal armor was up to 305mm thick, sufficient to withstand the famous and super-effective German 8.8cm cannon. To cope with the immense weight, the vehicle ran on four sets of tracks instead of the usual two. However, its 500hp engine was underpowered to handle such bulk, meaning the T28 was slow (a 13km/h top speed) and cumbersome (military bridges of the day could not bear its weight). It was to operate with a four-man crew.

Befitting such an impressive subject, Dragon's engineers have gone all out to create a stunning 1/35 scale kit of the American behemoth. Needless to say, most parts on this T28 Super Heavy Tank, except for the suspension, wheels and cupola, are newly tooled. New components include the lower and upper hulls that are created by slide molds so as to fit together precisely. The cast texture on the upper hull is realistically incorporated too.

The size of the model is simply overwhelming - more than 300mm long! The double track runs are made from brand new DS tracks, and the outer tracks can be detached just like the real ones should a modeler decide to opt for this configuration. The gun barrel is produced in aluminum. This was a monster of a tank, but Dragon has been careful to fill it out with sharp detail and easy-to-assemble components. The American T28 takes Dragon's title as the new super heavy tank of its 1/35 kit range!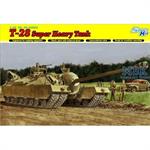 Schreiben Sie jetzt Ihre persönliche Erfahrung mit diesem Artikel und helfen Sie anderen bei deren Kaufentscheidung