T-54-3 Soviet Medium Tank. Mod 1951
Item Number:
MA37015
Manufacturer
MINIART
Scale:
1:35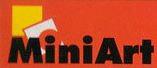 Plastic model kit to build a Soviet
T-54-3 Mod. 1951
1:35 scale
734 parts
without interior
All hatches can be opened and closed
single link tracks
Photo-etched and clear parts included
Decal sheet for 7 versions
not built/not painted
Paint and glue not included
MiniArt offers a whole series of T-54 tanks, which you can purchase here (if available):

with

Interior

without

Interior
MA37003 T-54-1 Soviet Medium Tank
MA37004 T-54-2 Soviet Medium Tank mod.1949
MA37007 T-54-3 Mod.1951 (Interior Kit)
MA37009 T-54A interior kit
MA37011 T-54B early production (Interior Kit)
MA37014 T-54-1 Soviet Medium Tank Mod.1947
MA37012 T-54-2 mod.1949 Soviet Medium Tank
MA37015 T-54-3 Soviet Medium Tank. Mod 1951
MA37017 T-54A Soviet Medium Tank
MA37019 T-54B (Early production)
The T-54 is a legend. It was used more extensively that any other Cold War or modern MBT to date. The T-54 tanks are a series of Soviet main battle tanks introduced just as the Second World War ended. T-54 tank became the main tank for armoured units of the Soviet Army, it was supplied to or produced by Warsaw pact countries, forming the bulk of their forces during the 1960s-70s. Then it served with the allies in the Middle East (Egypt, Syria, Jordan) and numerous nations among the non-aligned and third world countries. China copied the T-54 under the Type 59 designation and it was also largely distributed among Asiatic nations, notably North Vietnam, Laos, Cambodia and North Korea.
The T-54 series of soviet main battle tank came about in the search for viable replacement for the T-34 Medium Tank. Soviet engineers attempted several initiatives to replace the T-34 design with a more modern, refined and reliable tank. One such attempt became the 85mm-armed T-44. But the Soviet Army favored the 100mm main instead. The new tank was designated the T-54 and this version mounted the desired 100mm main gun. The serial production version, designated T-54-1, started in 1947 and lasted until 1949, about 1490 were made. In 1949 the first modernization phase came with the T-54-2.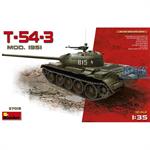 Write now your personal experience with this article and help others with their purchase decision.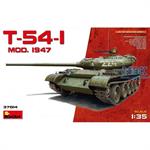 47.

50

€

*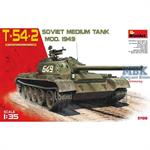 47.

50

€

*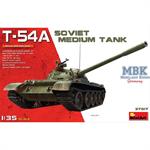 47.

50

€

*