The M18 Hellcat was an American tank destroyer designed to combat German Wehrmacht tanks.
The vehicle featured a compact, lightweight hull, automatic transmission, and the first torsion bar suspension found on US armored vehicles.
Its 9-cylinder radial engine at the rear of the fuselage was capable of a top speed of 80 km/h - the highest speed for tracked vehicles during World War II.
Production began in July 1943 and the M18s saw action on the Italian front for the first time in 1944.
After that, this tank destroyer was used in the theaters of war in Northwest Europe and the Pacific.
Extensive study of real M18s enabled this precise recreation of the compact form, armed with the powerful 76mm gun. The main gun breech, grenade mount, and rotary gears give the turret interior a realistic feel. The surface structure of the screen tarpaulin is faithfully reproduced. Clear parts are included to replicate the headlight lens.
The kit includes single link and length tracks (for the straight sections). Includes a figure depicting a standing tankman. There are two marking options from the Italian theater of war.
contains a figure
Two decal variants included
Tower with detailed interior
plastic model kit
1:35 scale
unbuilt/ unpainted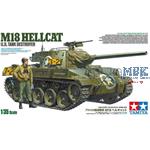 Write now your personal experience with this article and help others with their purchase decision.