#47 - Horch's leichte PzSpWg on Einhfgst.I & II
Item Number:
NB47
Manufacturer
NUTS & BOLTS
Nuts & Bolts Vol.47 - Horch's light armored cars on unit chassis I & II for s.Pkw. Sd.Kfz. 221, 222, 223, 247, 260, 261 and variants

232 pages,
softcover,
German & English texts,
444 photos (293 historical photos, 151 color photos of preserved vehicles in public and private collections),
16 colored camouflage patterns and 200 technical drawings.

In 1996 Nuts & Bolts first reported on the four-wheel armored scout cars (author Tony Greenland). This issue 4 was sold out after a short time.
Nuts & Bolts has therefore decided to take up this topic again and to present all vehicles of the 2nd generation of these armored scout vehicles, i.e. the Sd.Kfz. 221/222/223/247 (4-wheel)/260 and 261 and their well-known variants from our armored car specialist Holger Erdmann. This time also in the now usual manner with 293 historical photos in b/w, 11 tables with technical data and 151 color photos of museum vehicles of the types Sd.Kfz. 222 and 223 or their main parts, 16 camouflage and marking drawings by Laurent Lecocque; 200 technical drawings and, for the first time, sketches of all units that were in use with these vehicle types.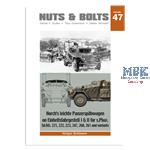 Schreiben Sie jetzt Ihre persönliche Erfahrung mit diesem Artikel und helfen Sie anderen bei deren Kaufentscheidung