#03 - Experimental Flak Weapons #1
Item Number:
N&B03
Manufacturer
NUTS & BOLTS
Rezension von www.Panzer-Modell.de
Eines der ersten Nuts and Bolts Hefte ist das Vol.3 das aufgrund einer sensationellen Entdeckung in einem Gedächtnispark in Moskau erschien mit dem Titel \"Experimental Flak-Weapons of the Wehrmacht\".
In diesem Teil werden die gefundenen Salvenmaschinenkanonen Typ 1 und 2 detailliert in 1:35 Zeichnungen und Fotos dargestellt. Die Texte und Bildunterschriften sind samt und sonders in englisch und deutsch gehalten.

Die spärlichen Infos die an Originalunterlagen über diese raren Waffenentwicklungen zu finden sind hat kein Geringerer als Karl Pawlas (Waffen Revue) zusammengesucht. Die schwarzweiss Fotos sind sehr gut von der Qualität und exzellent beschriftet um Teile der Kanonen zu identifizieren. Sämtliche Details werden dargestellt und beschrieben.
Wenn man sich für derart seltene Waffenentwicklungen interessiert, die sonst nirgends erwähnt oder derart detailiert dargestellt werden, führt kein Weg daran vorbei die 12,80 Euro für dieses 43seitige Werk zu investieren.
Nuts & Bolts Vol.08 \"Experimental Flak Weapons of the Wehrmacht part 1\"
Heiner F.Duske, Tony Greenland, Frank Schulz, Karl R.Pawlas
Format: DIN-A4, 43 Seiten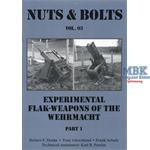 Schreiben Sie jetzt Ihre persönliche Erfahrung mit diesem Artikel und helfen Sie anderen bei deren Kaufentscheidung