Now: 26.

50

€

*
Sonderangebot
More than 5 Pieces available
Shipping 1 - 2 days
Arguably one of the most famous main battle tanks of World War II, the T-34 formed the backbone of the Soviet Army during the conflict.
The most important features were the sloping frontal armor that could guarantee better protection against direct hits and the introduction of wide tracks that provide good mobility on all types of terrain (including mud and snow).
In 1943, the T-34 took it further with the introduction of an all-new turret, larger and better armored, capable of housing the powerful 85mm long-barreled gun.
Thanks to the new T-34/85, the Soviet armored forces were able to effectively counter even the most modern and advanced German tanks, such as the Tiger and Panther.
The T-34 had a long operational career that extended well beyond the end of World War II: in June 1950 over 120 T-34/85s were in service with the North Korean People's Army and then in the invasion of South Korea.
plastic kit
including turned aluminum tube

including vinyl tracks and segment tracks

including photo-etched parts

including 4 decal variants
1:35 scale
unbuilt / unpainted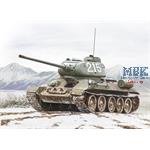 Write now your personal experience with this article and help others with their purchase decision.