Eyes on Target 2.0 - Die Fernspäher der Bundeswehr
Item Number:
MOB4512
Manufacturer
Motorbuch-Verlag

Scouts are among the oldest military units.
Their importance, which is often decisive in battles, has so far been neglected in book publications.
In this title, the author dedicates herself specifically to the modern long-distance scouts of the Bundeswehr: At the beginning there is an outline of the history of this elite type from the very beginning to current developments.
The entry requirements, the training, the tasks and the various ways of getting into the enemy target area and fulfilling the missions there are particularly considered.
This book is the first on the subject and unique in this form.
208 pages, 280 x 210 mm
German language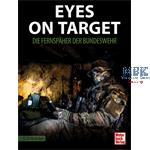 Write now your personal experience with this article and help others with their purchase decision.