Rechteckiger Holzsockel aus Buche-Leimholz in schwarzer Lasur
60x15cm, Höhe 1,8cm.
Stellfläche ca. 58,5 x 13,5cm, formschön angefräste Kanten
Diese Größe eignet sich ideal für Schiffsmodelle, Trucks und Militär LKW/Panzertransporter.
Dieser Sockel ist in schwarz lasiert. Die Holzstruktur ist nur noch ansatzweise sichtbar. Die schwarze Färbung verleiht dem Sockel ein edles Aussehen.
Hinweis: Es handelt sich hier um ein Naturprodukt, d.h. es können Variationen in Färbung und Beschaffenheit auftreten. Das unbehandelte Holz kann unter Umständen noch "arbeiten" und sich in sehr feuchter Umgebung verziehen. Dies regelt sich bei trockener Umgebung aber wieder in den Ursprungszustand.

Ein Modell auf einem Sockel wirkt immer besser und professioneller - sei es in der heimischen Vitrine, auf einer Ausstellung oder als Wettbewerbsmodell. Der Sockel kann auch ideal als Dioramengrundplatte genutzt werden!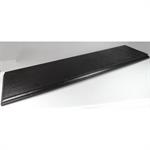 Write now your personal experience with this article and help others with their purchase decision.