Unregelmäßig ovaler Holzsockel aus Buche-Leimholz
24cm, Höhe 1,8cm.
Stellflächen UNGEFÄHR 22 x 17cm, formschön angefräste Kanten
Diese Größe eignet sich ideal für 1:72 Dioramen, 1:48 Modelle und kleinere bis mittlere 1:35 Modelle.
Diese unregelmäßige Form ist ein hervorragender "Ausbruch" aus den Einheitsformen der rechteckigen und ovalen Sockel. Er bietet dem Auge mehr durch die ungewöhnliche Form und zieht die Aufmerksamkeit auf sich. gerade kleine Dioramen und Vignetten machen sich hierauf hervorragend.
Dieser Sockel ist komplett unbehandelt, d.h. man kann diesen so natur belassen oder eine eigene Lasur nach Belieben auftragen. So sind die Gestaltungsmöglichkeiten unbegrenzt.
Hinweis: Es handelt sich hier um ein Naturprodukt, d.h. es können Variationen in Färbung und Beschaffenheit auftreten. Das unbehandelte Holz kann unter Umständen noch "arbeiten" und sich in sehr feuchter Umgebung verziehen. Dies regelt sich bei trockener Umgebung aber wieder in den Ursprungszustand.

Ein Modell auf einem Sockel wirkt immer besser und professioneller - sei es in der heimischen Vitrine auf eine Ausstellung oder als Wettbewerbsmodell. Der Sockel kann auch ideal als Dioramengrundplatte genutzt werden!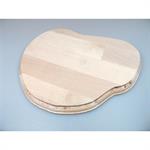 Write now your personal experience with this article and help others with their purchase decision.