Rectangular wooden base made of beech-glulam
25x13cm, height about 3.8cm.
Footprint approximately 22.5 x 10.5 cm, shapely milled edges with additional structured step.
This size is ideal for 1:35 & 1:48 models. Due to the raised top the model gets even better worth. Furthermore a small sign can be put on the smooth top mount
. This base is stained in mahogany. The wood structure is still pretty visible. The dark mahogany stain gives the base a sophisticated look.
Note: This is a natural product, ie variations can occur in color and texture. The untreated wood can "work" and may distort a little in humid conditions. This will come back in original state in a dry environment.
A model on a pedestal always works better and more professional - be it at home, at an exhibition or competition model. The base can also be used as an ideal base dioramas!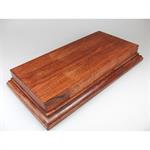 Write now your personal experience with this article and help others with their purchase decision.