Bolt Action: Semper Fidelis - US Marines
Item Number:
BA-WGB-START-10
Manufacturer
Bolt Action
Scale:
1:56
86.

50

€
Unfortunately sold out at the moment
No new delivery date known, if necessary please activate stock alert
US Army starter set:

·This army deal is made up of the following:

7 USMC sprues
2 US weapon sprues
1 M3A1 plastic half-track
Metal Corpsman (medic)
Metal Flamethrower team
Metal medium Mortar team
Metal 37mm light anti-tank gun
2 Metal 30 Cal teams
USMC leaflet


Scale: 28mm / 1:56

This product is supplied unassembled and unpainted. Glue and paints not included.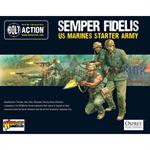 Write now your personal experience with this article and help others with their purchase decision.