Late War British Army 4x2 Heavy Ambulance
Item Number:
35GM0069
Manufacturer
Gecko Models
Scale:
1:35
Plastic kit of a late war WWII
British Heavy Ambulance
1:35 scale
including a figure
Photo-etched parts and decals included
without airplane
unbuilt/unpainted
Paint and glue not included
Although over 13,000 of these heavy duty ambulances were manufactured between 1939 and 1945 and appreciated by their users, they gained public notoriety through two facts - Queen Elizabeth II learned to drive these types of vehicles and a K2 during WWII /Y played one of the main roles in the 1958 film "It's Cold in Alexandria".
A K2/Y could carry 4 stretchers or 10 seated wounded or a mixture of these. If need be, more (27!) went, as veterans reported. With its 60 hp 6-cylinder engine, the vehicle, which weighed over 3 tons, could reach speeds of up to 80 km/h. Its 4-speed gearbox was a little tricky to master, but if you mastered it, the Austin could be relied on. The structure consisted mostly of plywood and canvas.
Primarily used by British and Commonwealth armies, it has also found use with the USAAF and civilian services. Used on many fronts, including in North Africa and later in the Korean War, the K2 served until the 1960s. Approximately 50 copies are said to still exist today.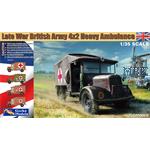 Write now your personal experience with this article and help others with their purchase decision.