Soviet T-100 Heavy Tank
Item Number:
TRU09590
Manufacturer
TRUMPETER
Scale:
1:35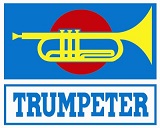 Plastic kit for building a Soviet
T-100
1:35 scale
Dimensions LxW (built): 244.4 x 97.3 mm
490+ parts
Photo-etched parts included
Hull and turret manufactured using the Slide Mold process
single link tracks
not built, not painted
Paint and glue not included
The T-100 was a Soviet twin-turreted heavy tank prototype, designed in 1938–39 as a possible replacement for the T-35. The T-100 was designed by N. Barykov's OKMO design team at S.M. Kirov Factory No. 185 in Leningrad. The T-100 was originally conceived with three turrets and was eventually built with two. It was in competition with a similar design - the SMK - but neither were adopted and instead a single turret version on the SMK was ordered as the KV-1. All three prototypes were tested at the same time in the Battle of Summa.
The T-100 tank had two turrets one in front of the other requiring a long chassis. The front turret, mounting a 45 mm anti-tank gun had a limited area of fire due to the second turret behind. The second turret, mounting a 76.2 mm gun, was set taller on top of the superstructure than the first and so able to turn a full 360 degrees.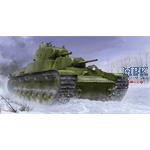 Write now your personal experience with this article and help others with their purchase decision.