The M48A2 Brückenlegepanzer or AVLB (Armored Vehicle Launched Bridge) was used by the Bundeswehr from 1960 with around 100 units.
A bridge hydraulic system for laying the 19.2m long bridge was placed on the hull of the M48A2 main battle tank.
For this purpose, the turret of the tank was removed and the opening to the fighting compartment was covered with a panel, which received two hatches for the driver and the commander.
With the relocated bridge, ditches and small rivers up to a width of 15 meters could be safely crossed.
Until the introduction of the Leopard 1 based tank bridge-layer "Biber" in 1974, the M48A2 was the standard bridge-layer for armored engineer companies.
These tried-and-tested vehicles remained in service with many armored engineer companies until the early 1990s.
Plastic model kit
Highly detailed kit based on the mold from a well-known manufacturer
With photo-etched parts
new parts for the A2 version available
all specific Bundeswehr parts are available (rear view mirrors, Leitkreuz, lighting system, etc.)
vinyl tracks
The bridge can be built in any position
Markings for four Bundeswehr bridge layers and a Belgian vehicle
1:35 scale
unbuilt / unpainted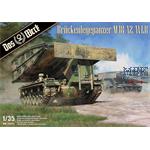 Schreiben Sie jetzt Ihre persönliche Erfahrung mit diesem Artikel und helfen Sie anderen bei deren Kaufentscheidung