Corner Large Paint Stand 36mm is compatible with standard Large Paint Stand - S2.

Thanks to its construction with an angle of 90 degrees, you can maximize the use of your workplace The set consists of perfectly matched elements. Installation of Corner Large Paint Stand will only takes a few moments.

Main feature:

- 33 holes for bottles with a diameter of 36mm.

Dimensions: 32 cm x 32 cm x 14 cm


Paint Stand fit to following paints and many others with similar diameter:

Vallejo - 30 ml / 35 ml
AK Interactive - 35 ml /30ml
AMMO - 35ml
Games Workshop - 12 ml
Life Colour - 22 ml
Formula P3 - 18 ml
Mr. Hobby Gunze - 10 ml
Tamiya Mini - 10 ml
Model Car World - 1oz bottles
Testor ModelMaster - .5oz bottles
Vallejo Primer - 60ml bottles
Revell (enamel) - 14 ml
Italeri - 20ml bottles


Stand does not include accessories, pictures are intended to show an example use of product.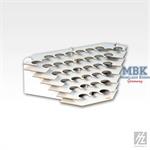 Schreiben Sie jetzt Ihre persönliche Erfahrung mit diesem Artikel und helfen Sie anderen bei deren Kaufentscheidung