12.

95

€
Unfortunately sold out at the moment
No new delivery date known, if necessary please activate stock alert
The Bottles Module has three shelves for paints, bottles or other containers of different sizes.

Note! The Module can be used only in the top row of the Modular Workshop System.

The Module to connect with other products of Modular Workshop System.

Dimensions: 30cm x 15cm x 15 cm

Main features:

- 1 x shelf (depth 67mm)

- 2 x shelves (depth 36mm)



To connect modules use magnets that are included. Thanks to this solution, you can always change the configuration of the workshop according to your needs.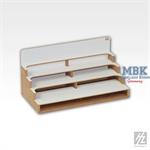 Write now your personal experience with this article and help others with their purchase decision.