Bolt Action: Chindit HQ
Item Number:
BA-WGB-BI-41 (405)
Manufacturer
Bolt Action
Scale:
1:56
5.

95

€
Unfortunately sold out at the moment
No new delivery date known, if necessary please activate stock alert
The Chindits, known officially as the Long Range Penetration Groups, were special operations units of the British and Indian armies, which saw action in 1943–1944, during the Burma Campaign of World War II. The creation of British Army Brigadier Orde Charles Wingate, the Chindits were formed for raiding operations against the Imperial Japanese Army, especially long-range penetration: attacking Japanese troops, facilities and lines of communication, deep behind Japanese lines.

Their operations were marked by prolonged marches through extremely difficult terrain, by underfed troops often weakened by diseases such as malaria and dysentery. There is controversy over the extremely high casualty rate and the debatable military value of the achievements of the Chindits.

Pack contains 10 metal foot figures.

Scale: 28mm / 1:56

This product is supplied unassembled and unpainted. Glue and paints not included.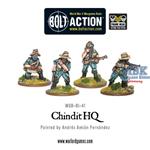 Schreiben Sie jetzt Ihre persönliche Erfahrung mit diesem Artikel und helfen Sie anderen bei deren Kaufentscheidung