36.

95

€
Unfortunately sold out at the moment
No new delivery date known, if necessary please activate stock alert
Model kit in 1:1000 for the USS Reliant from the Starfleet.
Round about 24 cm long.
Snap-Together Model Kit

Inklusive:

- Marking decals
- Dome base
- Clear parts
- Molded in white

- Scale 1:1000
- not built/painted
- paint and glue not required

BRAND NEW MODEL KIT

To many Star Trek fans, one film stands out among the rest. The consensus favorite is Star Trek II: The Wrath of Khan. In that film, one of Captain Kirk's most cunning nemesis returns as Khan Noonen Singh and hijacks one of the Federations starships, the U.S.S. Reliant. The film's story, effects and the design of the Reliant all contributed to the popularity of the film. Polar Lights now adds this authentically detailed model kit to our lineup of 1:1000 scale ships. It will fill a shelf perfectly along with our previous releases of the U.S.S. Enterprise Refit and classic U.S.S. Enterprise NCC-1701 Space Seed Edition.

To accompany the release of this model kit, Polar Lights WILL OFFER AN ACCESSORY PACK OF AZTEC DECALS that supply the surface detail that is otherwise difficult to accomplish with normal painting by moderately skilled modelers.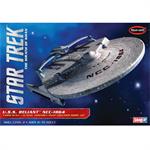 Schreiben Sie jetzt Ihre persönliche Erfahrung mit diesem Artikel und helfen Sie anderen bei deren Kaufentscheidung