3.

50

€
Base Price: 1 Liter = 350.

00

€
3 Pieces available
Shipping 1 - 2 days
- Resin paints
- Fast drying
- Very scratch-resistant and hard paint surface
- Very suitable for airbrushing

Tamiya Color bottled paints are extremely versatile - whether you're using them to airbrush large areas or working out fine detail with a brush, their stunning, consistent tones will bring superior realism to your model. Its hard-wearing membrane is ideal as a base coat, is resistant to enamel paints, while fast drying times ensure an efficient painting process.

- Thinner Tamiya 87077 Lacquer Thinner 250ml
- Thinner LP-10 - 10ml
- Thinner with drying retarder (retarder)
- Note: Colors may vary slightly from Tamiya Color Acrylics and Sprays of the same name due to different paint medium

Signal word Danger

Hazard warnings:
- H225 Highly flammable liquid and vapour.
- H318 Causes serious eye irritation.
- H336 May cause drowsiness and dizziness.
- EUH066 Repeated exposure to rough or cracked skin
to lead.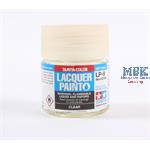 Write now your personal experience with this article and help others with their purchase decision.