La Waffen SS Tome III Sturmgeschütz Heimdal Verlag
Item Number:
SturmartillerieWSS3
Manufacturer
Sonstige
In this third volume in his series on the Waffen-SS Stug Guns, Pierre Tiquet examines three divisional formations deployed in often secondary theaters of war: two mountain divisions - the 6th and 7th, and one cavalry division - the 8th. They are not so much the focus , but are nonetheless interesting and have faced stubborn struggles.

Since the "Nord" was mainly used on the inhospitable front in Lapland, its assault guns had limited use there, as they were not well suited to the terrain in the far north. The SS Division "Prinz Eugen", also a mountain division, was mainly used in the Yugoslav mountains against Tito's partisans, although its Sturmgeschütz 40 battery also fought the Red Army in Serbia. Finally, the assault guns of the SS Cavalry Division "Florian Geyer" are mentioned, which were also used extensively in anti-partisan operations before being used against the Soviets in Ukraine, in Transylvania and in the terrible encirclement battle of Budapest.
French text, many bw photos, colored vehicle profiles, large format. 120 pages.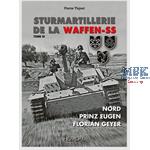 Write now your personal experience with this article and help others with their purchase decision.