Duke Hawkins: F-104 Starfighter
Item Number:
DH-025
Manufacturer
H.M.H.
This comprehensive 180-page book brings a complete portrait of the Lockheed F-104 Starfighter.
The content covers the early versions, but especially the F-104F/ G/J/S and even the F-104S-ASA/M.
Of course, the two-seat TF-104G is also included.
The Starfighter has been in service for exactly 50 years, but some are still flown in the US today. These aircraft, flown by Starfighter Aerospace, are also featured in this book.

180 pages
Size: 240 mm x 240 mm, high quality paper.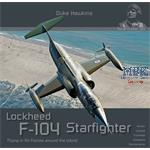 Write now your personal experience with this article and help others with their purchase decision.