Aces High Magazine - Issue 11 FW 190 "Der Würger"
Item Number:
AK-2921
Manufacturer
AK Interactive S.L.

9.

00

€
Unfortunately sold out at the moment
No new delivery date known, if necessary please activate stock alert
We introduce you the 11th issue, the first number of the collection dedicated entirely to n aircraft. The mythical Fw-190. An indispensable issue for all lovers of aviation. For this special issue we have selected some articles of the highest quality of the best modelers in which they explain a lot of techniques on this iconic plane, with a careful layout and great photos. You can not miss it!!.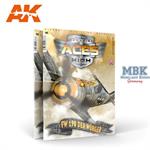 Schreiben Sie jetzt Ihre persönliche Erfahrung mit diesem Artikel und helfen Sie anderen bei deren Kaufentscheidung