Loire 130Cl "Colonial"
Item Number:
SH48172
Manufacturer
Special Hobby
Scale:
1:48
39.

95

€
Unfortunately sold out at the moment
No new delivery date known, if necessary please activate stock alert
Plastic Kit with resin parts
scale 1:48
unpainted/unbuilt

In 1933, the French Navy requested a new reconnaissance and light bomber seaplane able to serve aboard warships and launched using their catapults. Six companies offered their designs, the Loire 130 was the final winner. It was a shoulder-mounted wing monoplane with a pusher engine above the wing and was produced in two versions. The Loire 130M (for Métropole) saw service in home waters while the Loire 130 Cl (Colonial) machines were sent to the tropical areas. The latter airframe was built to withstand more demanding climate, it also got larger radiator and the crew was better protected from the elements. The Loire 130 began to be deployed on all catapult-equipped warships even before the outbreak of the war and also on shore bases in France, Africa and Indochina. The machines took part in the defence of France in 1940 and when the country was eventually defeated, they went on to serve with the Vichy forces. Several airframes were used by the Free French forces, too. The Vichy France even ordered further production. Some captured machines were evaluated by the German Luftwaffe. The Loire 130s which were operated from African bases struggled with the shortage of spare parts and in 1943, when French colonies in Africa were liberated and joined war effort with the Allies, as many as fifteen airframes were still airworthy and took part in war operations. Machines of the Loire 130 Cl version did their part in the French Indochina War against Siam and a handful of the machines flew till the end of the war, one of them was seen flying in Saigon as late as 1949.

The decals bring markings for four machines. One of them saw service in the Indochinese Union (commonly known as French Indochina) transporting French Navy commanding officers and the marking she wore underwent certain evolution over the course of her flying career, all these alterations have painstakingly researched and illustrated in the camouflage scheme and the decal sheet. The second machine with eye-catching livery and red and yellow Vichy stripes was operated by the French Naval Aviation in Africa. The third camouflage option brings a green-camouflaged Loire 130Cl machine with red empennage which saw service between 1943 and 44 also in French Indochina. The final option is a Free French Loire based at Fort-de-France, Martinique. The kit contains four grey styrene sprues, one clear plastic sprue and a set of detailed resin cast parts.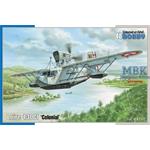 Schreiben Sie jetzt Ihre persönliche Erfahrung mit diesem Artikel und helfen Sie anderen bei deren Kaufentscheidung