Bolt Action: Tank War- Soviet starter set
Item Number:
BA-402014050
Manufacturer
Bolt Action
Scale:
1:56
94.

95

€
Unfortunately sold out at the moment
No new delivery date known, if necessary please activate stock alert
With over 70,000 units produced the T-34 is famous for its unconventional design. When it arrived early in the war the T-34 became a threat that the German's just couldn't handle. Designed to replace the monster sized KV tank series, the IS-2 was just as big and heavy but was even nastier. Equipped with a massive 122mm gun, its intention was to be a breakthrough tank, demolishing fortifications and clearing enemy positions.

This huge value starter set is filled to the brim with content, here's the breakdown:

3 Plastic T-34/85 medium tanks
3 Plastic IS-2 heavy tank
An A5 softcover Tank War Bolt Action supplement
A quick start booklet
A quick reference sheet
A set of templates, tokens and pin markers
Bolt Action Stat cards
6 Bolt Action order dice
A set of vehicle damage markers
Vehicle decal sheets
Rulers and six-sided dice

Plus Web Exclusive FREE mini A5 Bolt Action Rulebook

Two brutal armoured platoons come from this starter set, both with the potential to break entire armies. Forming the main battle line would be the IS-2s, with tough armour, a gargantuan 122mm gun and 3 machine guns, you can send this platoon to clear the path for the follow-up task force. Which would be the T-34 Squadron, who have plenty of armour and firepower to sweep away whatever remains.

The T-34/85

The T-34/85 became to be known as the 'ultimate' version of the T-34 series, combining the revolutionary design alongside an 85mm gun turret, this tank became the apex of battle tanks. Equipped with a heavy anti-tank gun and 2 MMGs, this tank can deal with the heaviest tanks alongside numerous squads of infantry.
Cost: 188pts (inexperienced), 235pts (Regular), 282pts (Veteran).
Weapons: 1 turret-mounted heavy anti-tank gun with co-axial MMG and foward-facing hull-mounted MMG
Damage value: 9+ (medium tank).
Options: OT-34/85: Replace hull-mounted MMG with flamethrower for +40pts.

The IS-2

With a super heavy anti-tank gun and 3 machine guns, you want the IS-2 to take down dangerous enemy units. Coupled with a 10+ armour stat, you can almost guarantee it's survival to boot.
Cost: 256pts (Inexperienced), 320pts (Regular), 384pts (Veteran).
Weapons: 1 turret-mounted heavy anti-tank gun with co-axial MMG, 1 turret-mounted rear-facing MMG, and 1 forward-facing hull-mounted MMG
Damage value: 10+ (Heavy Tank).
Options: May add a pintle-mounted HMG for +25pts
Special Rules: HE Slow load
Scale: 28mm / 1:56

This product is supplied unassembled and unpainted. Glue and paints not included.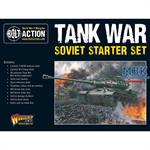 Write now your personal experience with this article and help others with their purchase decision.