Mirage III E Fighter-Bomber
Item Number:
MSVIT72045
Manufacturer
MODELSVIT
Scale:
1:72
Plastic kit for a French
Mirage III E
1:72 scale
172 parts
unbuilt/unpainted
Paint and glue not included
Mirage-IIIE was the most massively produced modification of the entire Mirage-III family of aircrafts. It was designed as an all-weather strike/multi-role fighter
In addition to the air superiority functions, Mirage IIIE could also be used for ground attacks not only with conventional bomb weapons, but also using AN-52 tactical nuclear bomb. Mirage-IIIE represented further development of the earlier Mirage-IIIC interceptor. It's first flight took place in 1961, three years later – it entered in service with the French Air Force.
The plane had powerful Thomson-CSF "Cyrano" II radar system with extended air-to-ground modes and complex navigation equipment. Four under-wing pylons carried up to 4,000 kg of combat load, including Matra AS30, Matra AS37 , and Matra R.530E missiles. It was also capable of carrying bombs, unguided missiles pods, special tactical containers and external fuel tanks. The plane was powered by TREC SNECMA ATAR 9C turbojet engine with afterburner, having dry thrust of 42,50 kN, or 60 kN with afterburner.
The basic layout of Mirage-IIIE featured a tailless delta configuration. Mirage-IIIE was supplied to Libya, Pakistan, South Africa, Spain, Australia, Switzerland, etc.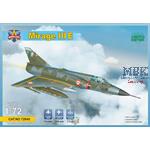 Write now your personal experience with this article and help others with their purchase decision.