Mikoyan MiG-17 F/ LIM-5 "U.S.S.R. - DDR" PREMIUM
Item Number:
AMIG8512
Manufacturer
Ammo of MIG
Scale:
1:48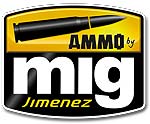 The Mikoyan-Gurevich MiG-17 was one of the most iconic post-WW2 Soviet fighters. It was the second jet fighter produced by the Soviet Union, following the MiG-15, and preceding other renowned Soviet fighters such as the MiG-19 and MiG-21. The overall design was based on the MiG-15 and featured new wings, a 20% longer fuselage, and a more powerful VK-1 engine, incorporating an afterburner in the F variant. The MiG-17 entered service in 1951 with the initial MiG-17A model (NATO designation: Fresco A); and was followed two years later, in 1953, by the MiG-17B (Fresco B). This was then followed by the most widespread and well-known variant, the MiG-17F (Fresco C).
The MiG-17F is one of the most iconic aircraft of the Cold War. It was one of the most widely used aircraft of the period, as well as being produced by a number of countries. It was licensed in Poland under the designation: Lim-5, and in China under the designation: Shenyang J-5.
This kit can be assembled as either the Soviet Union Mig-17F or the Polish-made version, the Lim-5, used by the German Democratic Republic during the Cold War.
Plastic model kit
Photo-etch sheet
Detailed afterburner interior
Detailed landing gear and landing gear wells
Flaps and ailerons can be depicted raised or dropped
Air brakes can be modelled open or closed
Underwing drop tanks
The Premium Special Edition also includes:
Canopy masks by Ginger Cat.
Red Fox Studio 3D instrument panels.
3D resin printed resin set consisting of an ejector seat, two rocket launchers with pylons, a ladder, and a pilot's helmet
Scale 1:48
unbuilt / unpainted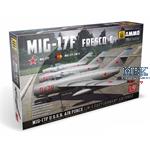 Write now your personal experience with this article and help others with their purchase decision.