Bolt Action: Hetzer (Sd.Kfz) 138/2
Item Number:
BA-WGB-WM-101
Manufacturer
Bolt Action
Scale:
1:56
21.

50

€
Unfortunately sold out at the moment
No new delivery date known, if necessary please activate stock alert
The officially named Jagdpanzer 38(t) was introduced on the battlefields of Europe and Russia in the late stages of the war. It's purpose was to give troops a cheaper, mobile and lighter anti-armour capability.

The Jagdpanzer 38(t) succeeded the Marder III tank in 1944 and carried a relatively powerful forward facing hull-mounted 75mm gun (a version of that used on the Stug III) and a remotely operated machine gun that could be fired by the crew from within the vehicle.
Contents:

1 resin Jagdpanzer 38(t)
Metal pieces for detailing


Scale: 28mm / 1:56

This product is supplied unassembled and unpainted. Glue and paints not included.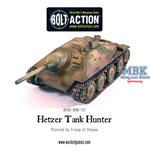 Schreiben Sie jetzt Ihre persönliche Erfahrung mit diesem Artikel und helfen Sie anderen bei deren Kaufentscheidung