Bolt Action Korean War: NK KPA Rifle squad
Item Number:
BA-402218103
Manufacturer
Bolt Action
Scale:
1:56
Now: 9.

72

€

*
1 Pieces available
Shipping 1 - 2 days
The forces of the KPA were vast, incorporating between 150,000 – 200,000 personnel, divided into 10 Infantry divisions, 1 Tank division, and 1 Air Force division. Although North Korean conscription was in effect before the outbreak of war, many young men were encouraged or pressed into service by their own families for the promise of financial reward.

At the outbreak of the Korea war in 1950, the KPA were better prepared in every way for the coming conflict. Not only were they better trained and more favourably equipped, but earlier guerilla warfare in South Korea had also left ROKA forces little time to re-establish a strong military presence. As such, the initial attacks on June 25, 1950, were highly effective.

The KPA foot soldier has long been celebrated for his ability to endure the worst the enemy, the harsh Korean climate, and the hardships his own superiors can throw at him. Modelled on the mechanized Soviet Army, sporting armaments supplied by Stalin and bolstered by veterans released from China, the KPA forces were considerably larger and more dangerous than the UN anticipated.

KPA LMG Squad

The basic KPA infantry squad consisted of ten men led by a sergeant and a junior sergeant (equivalent to a Corporal).
The standard Rifle Squad in the North Korean Army, the KPA, is a well-trained and well-disciplined team prepared for the many hardships anticipated in the struggle to come. To represent the vastness of the KPA in Bolt Action, a KPA army is allowed to include a free ten-man rifle squad of inexperienced infantry!

This box set contains a 10-man section

Scale: 28mm / 1:56

This product is supplied unassembled and unpainted. Glue and paints not included.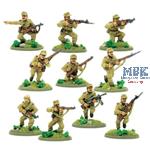 Schreiben Sie jetzt Ihre persönliche Erfahrung mit diesem Artikel und helfen Sie anderen bei deren Kaufentscheidung