Bolt Action: Northern European Battlefield Set
Item Number:
BA-842610001
Manufacturer
Bolt Action
Scale:
1:56
24.

95

€
Unfortunately sold out at the moment
No new delivery date known, if necessary please activate stock alert
World War II, being a truly global conflict, saw battles raging across all manner of terrain, and much of it started and ended in the fields and hedgerows of Northern Europe. Soldiers there would use every scrap of wall, hedge, or other abundant foliage to keep hidden or protected from the firepower wielded by all sides.

This great battlefield theming set allows you to recreate those battlefields and add extra atmosphere to your games. The contents of this set are also ideal for basing your models and dioramas – for WWII and other periods of history.

The Northern European Battlefield Theme Set contains enough material to cover approximately a 2' x 2' board:

2mm Spring Basing Static Grass
2mm North European Static Grass
Fine Stone Wall Debris
Medium Stone Wall Debris
Pathway Scatter
Summer Dark Green Lichen
Spring LIght Green Lichen
Autumn Brown Lichen
Two Straight Wall Sections
4 Wall columns
4 Battle-damaged Wall Sections
2 Wall columns


Scale: 28mm / 1:56

This product is supplied unassembled and unpainted. Glue and paints not included.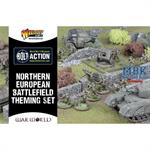 Schreiben Sie jetzt Ihre persönliche Erfahrung mit diesem Artikel und helfen Sie anderen bei deren Kaufentscheidung