AMMO WARGAMING UNIVERSE #03 - Weath. Combat Armour
Item Number:
AMIG7922
Manufacturer
Ammo of MIG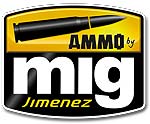 Wargames Box for weathering armour and vehicles.

Products included:
AMIG6922 AMMO WARGAMING UNIVERSE Book #03 - Weathering Combat Armour (Multilingual Book).

AMIG2010 Scratches Effects (35mL)

AMIG1407 Engine Grime EFFECTS

AMIG0622 DRYBRUSH Gun Metal

AMIG0618 DRYBRUSH Chipping

AMIG1203 STREAKING Grime

AMIG2018 Enamel Odourless Thinner (35mL)

AMIG1800 EFFECTS BRUSHER - Fresh Engine Oil

AMIG1254 STREAKINGBRUSHER Rust

AMIG1009 Starship WASH

AMIG3028 PIGMENT City Dark Dust

AMIG3514 OILBRUSHER Earth

AMIG3523 OILBRUSHER Dusty Earth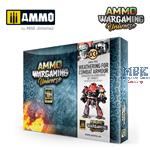 Write now your personal experience with this article and help others with their purchase decision.