M4A3 HVSS POA-CWS-H5 Flamethrower Korea
Item Number:
7524
Manufacturer
DRAGON
Scale:
1:72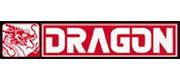 26.

50

€
Unfortunately sold out at the moment
No new delivery date known, if necessary please activate stock alert
Plastic Model Kit for a tank
- Scale 1:72
- not built/painted

M4A3 HVSS POA-CWS-H5 Flamethrower

The Korean War broke out when North Korean troops and accompanying armor suddenly began rolling across the 38th Parallel on 25 June 1950. The M4 Sherman tank played an important part on the US side in the three-year conflict, specifically the M4A3E8 variant that is often referred to as the "Easy Eight".

Dragon is now offering a special 1/72 scale sub-variant of the M4A3E8 with HVSS. It is known as the POA-CWS-H5, a flamethrower version of the regular Sherman gun tank. Mounted in the turret was the original 105mm howitzer, with a coaxial flamethrower gun added alongside it. The flamethrower gun barrel is made of metal.

It's one of the 70th anniversary kits that we are releasing. The Korean War does not often get the publicity it deserves or fully attract the attention of modelers, but this fine 1/72 scale kit allows a dramatic scene from the Korean Peninsula to be conveniently created by modelers.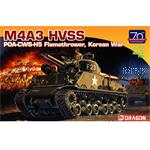 Write now your personal experience with this article and help others with their purchase decision.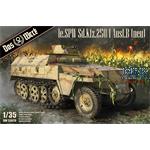 44.

95

€

*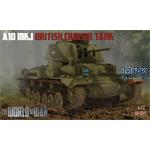 11.

50

€

*