Bolt Action: Ruined Hamlet
Item Number:
BA-802010005
Manufacturer
Bolt Action
Scale:
1:56
38.

50

€
Unfortunately sold out at the moment
No new delivery date known, if necessary please activate stock alert
This boxed set is based on a ruined farmhouse is extremely versatile in that it can be built in several ways and is also ideal for use in many periods - from Napoleonics to WWII.

Please note you get 3 of the farmhouses, the image above is an example of just 1 farmhouse.
This box contains 3 plastic houses

Scale: 28mm / 1:56

This product is supplied unassembled and unpainted. Glue and paints not included.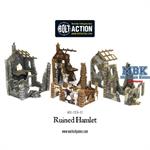 Schreiben Sie jetzt Ihre persönliche Erfahrung mit diesem Artikel und helfen Sie anderen bei deren Kaufentscheidung