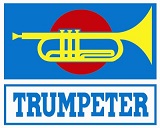 Plastic kit for a Soviet-Russian
KamAZ-4310
1:35 scale
Dimensions LxW (built): 223 x 81.6 mm
310 parts
Clear and photo-etched parts included
rubber tires
Paint masks included
multiple marking options
can be built with a tarpaulin or only with a bow
not built, not painted
Paint and glue not included
The KamAZ-4310 general utility truck is produced since 1980. It is a militarized version of commercial vehicle. Since it's introduction the KamAZ-4310 become the work horse of the Soviet military.
This military truck has a conventional layout, with a front-mounted engine and a forward control cab. An all-metal cab provides seating for the driver and two passengers.
A baseline version of the KamAZ-4310 has a general troop/cargo body with folding-down sides and tailgate. It's cargo area is covered with removable bows and canvas cover. It's payload on cross-country terrain is limited to 6 t. With a load of 6 t the KamAZ-4310 has a maximum road speed of 85 km/h. It can also tow trailers with a maximum weight up to 7 t.
The KamAZ-4310 is powered by a YaMZ-740 10.85-liter V8 diesel engine, developing 210 hp. The same engine is also used by Ural-4320. Vehicle has a full-time all wheel drive. This military truck is fitted with a central tyre pressure system. A self-recovery winch was fitted to some models.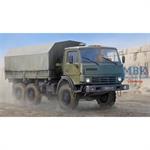 Write now your personal experience with this article and help others with their purchase decision.