58.

50

€
Unfortunately sold out at the moment
No new delivery date known, if necessary please activate stock alert
The High Mobility Multipurpose Wheeled Vehicle (HMMWV for short, usually called Humvee or Hummer) is an all-terrain vehicle developed as a successor to the M151 for the US Army and has been produced in various versions by the US manufacturer AM General since 1985.
At the end of 1995, production of the M1114 began on the basis of the improved ECV chassis.
The M1114 provides protection against 7.62mm rounds, 155mm artillery fragments and 5.4kg anti-tank mines.
Plastic model kit
with photoetched parts
with CROWS II
very detailed chassis with engine replica
plastic tyres
detailed seats
Dashboard with all details, placards, etc.
latest generation radio with Digital Com. & Control System with decal for the screen
Weapon and munitions holder in the rear
fully detailed air-conditioning with etched grilles and openwork fan grilles
Tailgate, all doors and gun carriage ring can be shown open
radiator grille with etched grilles
armoured rotating ring mount with all details
new type of spare wheel mount
detailed fog agent throwing system
choice of normal or deep water air intake
M2 50.cal MG or Mk. 19 40mm grenade launcher optionally stowed in the rear or on the roof
incl. M4 Carabiner with and without grenade launcher, AT4 anti-tank weapon, canisters, portable GPS system, CIF panels, water bottles and various ammunition boxe
Scale 1:35
unbuilt / unpainted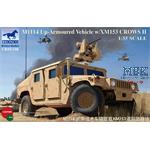 Write now your personal experience with this article and help others with their purchase decision.