Armored 1/4 ton 4x4 Truck w/.50 cal
Item Number:
6727
Manufacturer
DRAGON
Scale:
1:35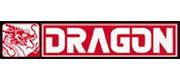 Now: 27.

50

€

*
Sonderangebot
More than 5 Pieces available
Shipping 1 - 2 days
Plastic inj. Kit
Scale 1/35
not built or painted

ragon is offering a versatile new 1/35 scale kit of the famous military vehicle that was known in official US nomenclature as the Truck, 1/4 Ton, 4x4. This is a 3-in-1 kit that permits modelers to choose any one of the three options with different weapon fitments. One is a .50-cal machine gun mounted on the front, one with twin bazookas mounted in the rear compartment and the final one with a .50-cal machine gun fitted on the same rear pedestal mount.

It's probably the world's most famous design in its class, with this iconic WWII vehicle produced from 1941-45. The vehicle features a solid one-piece body tub that ensures accurate assembly and alignment. Under the hood is an extremely realistic-looking engine that can be shown off if the modeler chooses to depict the hood up. The vehicle's set of armor plates are rendered in photo-etched metal to give a true-to-scale appearance. Other photo-etched components provide finer details such as tool mounting brackets, hood retainers and various straps. Modelers now have more options for turning their vehicles into heavy metal!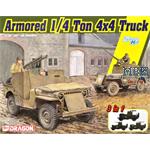 Schreiben Sie jetzt Ihre persönliche Erfahrung mit diesem Artikel und helfen Sie anderen bei deren Kaufentscheidung