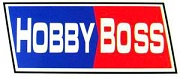 34.

90

€
Unfortunately sold out at the moment
No new delivery date known, if necessary please activate stock alert
Plastic model kit to build a soviet medium tank
T-12
1:35 scale
Dimensions LxW (built): 178.2 x 75.4mm
300+ parts
Upper hull manufactured using the Slide Mold process
single link tracks
not built/not painted
Paint and glue not included
The concept of the T-12 consisted of a synthesis of the experience gained during the design and mass production of the T-18, and the idea of a multi-tier deployment of weapons, which was consistently tested by American engineers in the design of prototypes of a medium tank. The T-12 had a simple hull structure between two tracks with small-bogie suspension.
It had a eight-sided turret with a rounded commander's cupola and a crew of four. It weighed 19 tons, was 7.5m long, 3m wide, and 2.8m high. It was armed with a typical Model 32 45mm gun, with space for 1000 rounds, and it even had three 7.62mm DT machine guns in a Fedorov-Ivanov ball mount – one in the commander's cupola, one next to the main gun, and one on the side of the tank's turret. Like all Soviet tanks of that time, the T-12 had a removable "tail", which increases the length of the hull 690mm, and gave the opportunity to overcome the trenches up to a width of 2.65 meters.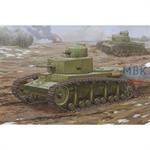 Write now your personal experience with this article and help others with their purchase decision.