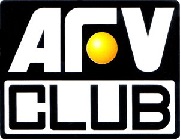 The Churchill is seen as a replacement or successor to the Matilda II.
The first prototype came out in 1940, and series production started in 1941. There were several versions of it.
Initially equipped with a 2-pounder gun in the turret and a 3-inch howitzer in the hull, from the Mk.III a 6-pounder gun with coaxial machine gun in the turret and one machine gun in the hull front was standard.
Further changes/improvements followed. The 12-cylinder petrol engine with 350 hp (261 kW) was able to bring the 40-ton tank to a top speed of approx. 20-24 km/h.
The last batches of the tank were armed with either the QF 6-pounder or the QF 75mm gun developed from it,
plastic model kit
turned gun barrel
steel springs
3 PE frets
vinyl tracks
Decals for:
Royal Armoured Corps Gunnery School, Dorset UK, 1943.
34th Tank Brigade, France, 1944. (Note this includes the added turret armor plate)
3rd Battalion, Scots Guards, 6th Guards Armoured Brigade, Holland, Nov. 1944.
25th Armored Brigade, Italy, May 1944.
6th Guards Armoured Brigade, Germany, March 1945.
1:35 scale
unbuilt / unpainted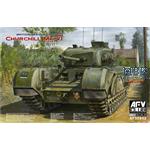 Schreiben Sie jetzt Ihre persönliche Erfahrung mit diesem Artikel und helfen Sie anderen bei deren Kaufentscheidung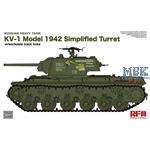 49.

00

€

*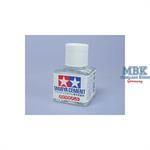 4.

50

€

*