Russian Armored Mine-Clearing Vehicle BMR-3
Item Number:
TRU09552
Manufacturer
TRUMPETER
Scale:
1:35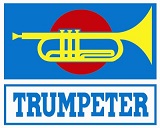 Plastic kit for a Soviet mine clearance vehicle BMR-3

over 1000 parts
single link chain
contains PE parts
Copper cable, wire, metal chain incl.
Dimensions LxW (expanded): 298 x 126 mm
not built, not painted
1:35 scale
In the early days of the "Afghan War", the Soviets began developing the "BMR" series of demining vehicles. Type BMR-1 (Su-122) entered service in 1982, Type BMR-2 (T-54) in 1985 and Type BMR-3 in 1995.
BMR-3 was based on a T-72 tank chassis and was equipped with a KMT-7 mine roller and a plow device.
The drum-type mine roller could clear two channels in AT minefields 800 mm wide at a speed of 12 km per hour in waters up to 1 m deep and with a current of 2 m/s. The vehicle is armed with a 12.7mm anti-aircraft gun.
BMR-3 was replaced from 2000 by the type BMR-3M (T-90) with ERA.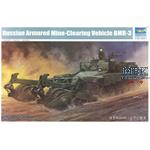 Schreiben Sie jetzt Ihre persönliche Erfahrung mit diesem Artikel und helfen Sie anderen bei deren Kaufentscheidung