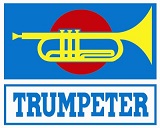 Complete kit for building a German
5 cm FLAK 41 auf Selbstfahrlafette (Sd.Kfz.7/2)
1:35 scale
Dimensions LxW (built): 233 x 143 mm
850+ parts
PE parts and wire included
not built/not painted
Paint and glue not included
The Sd.Kfz. 7 was very varied. With its product portfolio, Trumpeter covers the many versions that you can get here (if available):
TRU01507 Sd.Kfz. 7 Mittlere Zugkraftwagen 8t late version
TRU01514 Sd.Kfz. 7 Mittlere Zugkraftwagen 8t early version
TRU01523 Sd.Kfz. 7/1 Mittler Zugkraftwagen 2 cm Flakvierling
TRU01524 2 cm Flakvierling 38 auf Sd.Kfz.7/1 late
TRU01525 Sd.Kfz.7/2 - 3,7cm Flak 37 early Version
TRU01526 Sd.Kfz.7/2 - 3,7cm Flak 37 late Version mit Sd.Ah.
TRU01527 Sd.Kfz.7/2 - 3,7cm Flak 43 mit Sd.Ah.
TRU09513 5cm Flak 41 auf Sfl. Sd.Kfz.7/2
TRU09537 Sd.Kfz. 7/3 Artillery Tractor Feuerleitpanzer
The 5 cm FlaK 41 was 50 mm anti-aircraft gun produced for defending intemediate zone above the light, 37 mm guns' range, but below the ceiling of the heavy, 75 mm and above, pieces. Development of the gun, although started in 1936 was slow, and the contract was awarded to Rheinmetall-Borsig only in 1940. The gun was produced in two models, used for defending important industrial installations. None of the two was a success and both shared the same faults. The speed of traverse was too slow for fast-moving targets and the gun proved underpowered, even though the propellant gave a powerful blast, able to dazzle the aimer even in broad daylight. Altogether 60 of 5 cm Flak 41 were produced, starting from 1941. Some of them were still in use in 1945.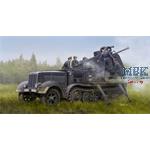 Write now your personal experience with this article and help others with their purchase decision.