Decalbogen 1:35
300 limited prints.
This marking set is produced in conjunction to the impending release of MLM conversion set based on the Revell 1/35 Leopard 1A5 kit. MLM plans to incorporate this decal set into the conversion kit. So if you are planning to get the MLM (release date unknown for now) conversion set, you will not be needing this set.
We are only offering this set through our website for those who intend to scratch-build their own Leopard C2A1 conversion, to use the markings for other purposes, or serve as a backup set for the MLM conversion.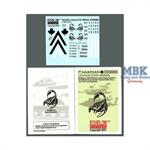 Write now your personal experience with this article and help others with their purchase decision.