47.

50

€
Unfortunately sold out at the moment
No new delivery date known, if necessary please activate stock alert
Plastic inkj. Kit
Scale 1/24
not assembled or painted

MERCEDES-BENZ SK EUROCAB 6x4

In 1993 the most powerful Mercedes-Benz Truck with more than 500 HP, was introduced as the « EUROCAB » with a raised roof cabin. Equipped with the same cab, two more engine versions are available, 380 HP and 435 HP. Contrary to many other truck manufacturers, most part assemblies such as transmission, engine etc. are produced by Mercedes in house. Power source is a V-8 turbo-charged Diesel engine, 14.6 l, with an output of up to 503 HP. Despite of its high roof, the EUROCAB features a roof spoiler to reduce fuel costs to a minimum. All Mercedes Trucks are built according to the new European noise and emission control regulations.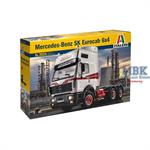 Schreiben Sie jetzt Ihre persönliche Erfahrung mit diesem Artikel und helfen Sie anderen bei deren Kaufentscheidung