Bolt Action: Winter Soviet Infantry
Item Number:
BA-WGB-RI-04
Manufacturer
Bolt Action
Scale:
1:56
39.

95

€
Unfortunately sold out at the moment
No new delivery date known, if necessary please activate stock alert
When the German army crashed over the Russian border in 1941, Hitler was confident of a short, sharp campaign. He nearly got one, but heroic defence by the massive Soviet armies slowed the Nazi advance. It was done by the simple private soldier, "Ivan" as the Germans called him. Brave, solid, and loyal, these soldiers endured dreadful battle conditions. Their equipment was unsophisticated but functional, much like the troops themselves.

The bitter fighting in Finland had taught some hard lessons to the Red Army where thousands of their men fell victim to frostbite. The cold weather kit later issued was warm and comfortable, frequently padded or quilted, and was much envied by the German troops shivering in thin overcoats.

These tough men could lie out in the snow for hours before making their attacks. Urrah!

40 figures.

Scale: 28mm / 1:56

This product is supplied unassembled and unpainted. Glue and paints not included.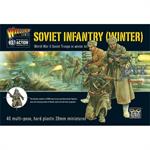 Write now your personal experience with this article and help others with their purchase decision.