Balsa-Foam Hartschaumplatte 305x228x25 20PCF #20
Item Number:
bf12x9x1-20pcf
Manufacturer
Balsa-Foam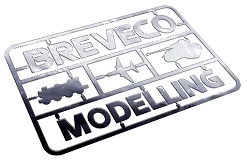 27.

50

€
Unfortunately sold out at the moment
No new delivery date known, if necessary please activate stock alert
Size 305x228x25mm contain 1 pcs. 20PCF (Hard)

Balsa-Foam® is rigid phenolic foam specifically developed for three-dimensional design, sculpting, and model making.
It has excellent chemical resistance and can be glued together with adhesives from carpenter's glue to gel-type cyanoacrylate (superglues).

Balsa-Foam® can be painted with any kind of water-based or solvent-based paint or coating.
An initial coating of spray paint will help to seal the foam. Solvent-based paints tend to leave surface texture intact, while acrylic paints tend to fill the texture.

Since Balsa-Foam® has no rebound, it will hold a very detailed impression. This means you can create detailed shapes by simply pressing any object into the surface.

Balsa-Foam® is available in three different densities: Balsa-Foam® 5pcf*, Balsa-Foam®10pcf and Balsa-Foam® 20pcf. (5pcf and 10pcf is also known as Balsa-Foam® I and II)

*Pcf stands for Pound per Cubic Foot (lb/ft3)

Working with Balsa-Foam
Carving knives and chisels virtually glide through the Balsa-Foam® 5 pcf and also cut relatively easy through the denser, harder Balsa-Foam® (10 pcf & 20 pcf)

Aside from density, all 3 versions of Balsa-Foam® are essentially the same.
The same techniques can be used each except with Balsa-Foam® 20pcf which offers much more resistance to cutting or shaping tools.
Techniques such as punch cutting or impressing the foam may not be practical with Balsa-Foam® 20pcf, but is ideally suited for CNC cutting and prototyping.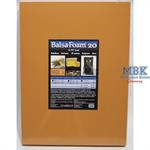 Write now your personal experience with this article and help others with their purchase decision.